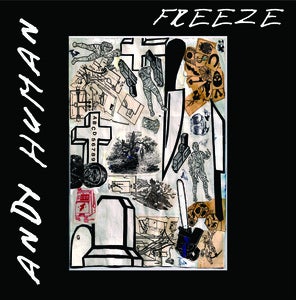 ANDY JORDAN's been bouncing around the california rock n roll scene for quite some time now, with the CUTS, TIME FLYS and LENZ, and only now has decided to emerge with a solo record as ANDY HUMAN, and man oh man was it worth the wait.....

on his debut LP

FREEZE via the newly minted CHROMEWAVES RADIO label, ANDY HUMAN concocts a swirl of urgent, catchy power-popped, glam-coated fake punk gems, that'll have you humming along in an instant.........
on FREEZE, yr transported to alternative universe that might have existed thirty years ago, when new wave was just starting to coalesce into a pop monster, when horror b-movies were cued up in the VHS player, before the 80s became a cliche and when all the weirdos and outsiders were lined up at the local dive bar for a night of music that could've only be witnessed then........ carefully choosing his influences, ANDY HUMAN borrows from DEVO, T REX, F.U. 2, GARY NUMAN, ELVIS COSTELLO, the TESTORS, DOW JONES & THE INDUSTRIALS and the SPEEDIES all in one sugary high octane mess of rock n roll........
it's as if glam wasn't killed when punk arrived, and new wave never left its punk roots and the power pop cult favorites recorded around the same time as those classic Ramones lps were just as important as punk was..... only revisionist pop historians will try to make history seem straight forward and linear. after all, you could've gone to the record shop in 1980 and grabbed the cure, the shoes, the damned and the new york dolls all in one purchase.....and i can imagine ANDY HUMAN finding a time machine and doing just that......
extremely well made, infectious rock n roll for outsider pop fans like me,
FREEZE is one of the best albums you can get yr hands on right now......
totally recommended.
listen to FREEZE below,
and pick up a copy from CHROMEWAVES RADIO here -