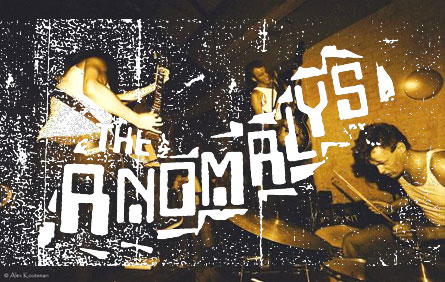 THE ANOMALYS
are surf/garage/rockabilly-infused punk rock outta HOLLAND
....and these dutch guys are not fuckin around, this is some snappy infectious punk rock....... their s/t lp on
slovenly records
from 2010 was a hit.....
and so why not get excited about a brand new single from THE ANOMALYS.....?
kinda like HASIL ADKINS fronting MINOR THREAT..... or LINK WRAY coming back from the dead to join the COLA FREAKS..... nothing quite this riotous is attempted often enough..... this is some serious rock n roll destruction to file near THE CRAMPS, THE OBLIVIANS and MARK SULTAN'S various bands in yr record collection, yeah in that pile of lps that blow yr mind and yr speakers........
maybe i'm heaping too much praise on THE ANOMALYS, but i've listened to a lot of new bands on indie labels today, and they stand way out from all the boring records some people are taking the time to release......
listen to their new 7 inch here.....
and buy it now from SLOVENLY......!
watch them below.....