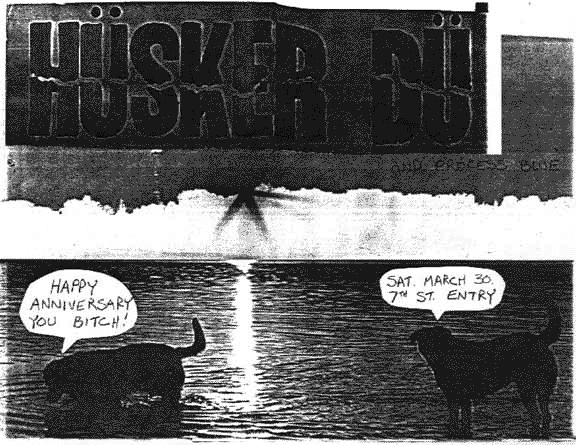 thanks to the internet, we can transport ourselves back to the heyday of punk and post punk, and on a cold winter day, what could pass the time better than watching old
HUSKER DU
concert footage?
one of the best punk / underground rock bands of all time, HUSKER DU was a force to be reckoned with live........ and below is a perfect example - a riotous show from london in 1985..... right before FLIP YOUR WIG and directly after the release of NEW DAY RISING......both classic fucking albums....... and not to sell themselves short they rip through plenty of high octane favorites from ZEN ARCADE, EVERYTHING FALLS APART and METAL CIRCUS as well......... even if you've never listened to HUSKER DU, you'll be more than stoked to pogo around to this show........
after all, they influenced everyone from the noise poppers to the grunge rockers, and everyone in between.....yes even the college rockers, emo kids and pop punkers.....
anything with the HUSKER DU name on it is highly recommended by TINY GROOVES......
'cause they broke up before they could fuck things up and left quite a string of important records in their wake, ones that still sound fresh today.....
so rock n roll below, and pretend you were there......
here's the track listing from the show, as if you need it.......
1-New Day Rising
2-It's Not Funny Anymore
3-Everything Falls Apart
4-The Girl Who Lives On Heaven Hill
5-I Apologize
6-If I Told You
7-Folklore
8-Terms Of Psychic Warfare
9-Powerline
10-Books About UFOs
11-Chartered Trips
12-Diane
13-Celebrated Summer
14-Every Everything
15-Makes No Sense At All
16-Pink Turns To Blue
17-Ticket To Ride
18-Recurring Dreams / Eight Miles High
19-Love Is All Around
GO BUY ALL THEIR LPS NOW !!!!!!!