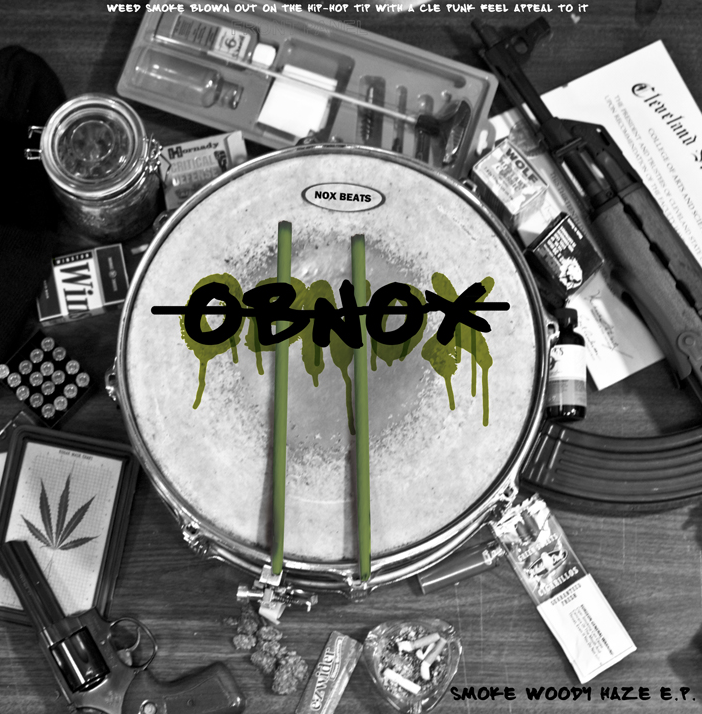 hot on the heels of last year's excellent PERMANENT lp ROJO and his recent A RAGIN' IN THE SUN single on ANYWAY,

OBNOX

has dropped a killer new ep on 12XU entitled SMOK

E

WOODY HAZE....
and hell fucking yeah i'm i excited.....

any new release from Lamont "Bim" Thomas is a cause for celebration.....whether it be
in the Bassholes, This Moment In Black History, Puffy Areolas, Unholy Two or as Obnox.....
and as solo act, Bim has been on a fucking tear -- beginning with his Purple Reign and Masonic Reducer singles which are both monster slabs of blown out rock goodness...and continu

ing with

his noise mongering debut lp I'M BLEEDING NOW (SMOG VEIL / 12XU)...... all of them highly recommended (ROJO made top ten in my year end list, and RAGIN IN THE SUN will definitely hit 2013's single list).......
can OBNOX keep up this high octane turbo charged burst of creativity? why YES! and SMOK

E

WOODY HAZE shows Bim has no desire to slow down one bit or get complacent or less experi

mental for that matter

..... this ep might just be his most OUT-THERE release yet....... so get ready for yer mind to melt and yer speakers to blow.......
SMOK

E

WOODY HAZE is OBNOX's beats oriented noise rock deconstruction of popular music, heady yet raw and loud just as you'd expect from Bim......
12XU seemed worried that the high concept of this new ep might be lost on some of his long time fans, so they sent a little note along with the promo..... i don't think the back story is necessary at all -- the music says it all --but you might wanna read on anyway -
The only thing I hate more than 12" EP's are 10" EP's. Or failing that, someone calling it a "maxi-single". Why not just put my cock in a vice?
HOWEVER, the 8-song extended player in question, 'Smoke Woody Haze' (a salute of sorts from one Ohio icon to another) is not only a musical left turn of sorts for Bim Thomas, but was also, apparently, commissioned by another label that due to circumstances beyond our control (well, mine, at least --- I can't speak for Bim) is no longer involved in the project. Trust me, this soap opera shit is way less interesting than the musical contents. Not counting the 'I'm Bleeding Now' reissue, this makes 5 amazing Obnox records in 2012, and as such, Bim would be a prime candidate for Time's "Man Of The Year" if the award hadn't already been locked up by whoever invented The Chip Clip (condolences to whoever invented the clothespin ---I think you were totally screwed).
Bim says the next one's gonna be a double LP. Bob Pollard's on the phone --- something about Bim being "too prolific".
you might say OBNOX has chewed up hip hop and spit out something so unique and mesmerizing it doesn't even fall into a genre any more. Kinda like Madlib mashing jazz and hip hop on those "Yesterday's New Quintet" LPs, those outsider wonky ANTICON records lps,
Mick Collins taking on techno and soul via the garage rock filter of the Dirtbombs or Puffy Areola's hardcore renditions of acid fried psych, OBNOX's 12 inch is a noise rock reinterpretation of rap and the soul music it samples all through his warped vision of blown out rock n roll fun.
Absolutely one of the most interesting records you'll come across all year long.
And just the kind of distorted avant

rule breaking

we all expect from Bim.....

so get ready to wear the grooves out.
Fans of his previous work, noise rock in general and anything genre busting,
need to grab a copy of SMOKE WOODY HAZE now.......
in a perfect world, these songs would all be club bangers and top 40 hits......
HHHHHHHIIIGGGGHHHHLLLLLYYYYY RECOMENDED.....
but don't take my opinion,
listen

for yerself

below to three tracks off the new 12 inch single -
SMOK

E

WOODY HAZE......
DEEP IN THE DUSK.......
CASH WEED GREEN.......

watch OBNOX live below.....
and as an added bonus listen to a live OBNOX set here......