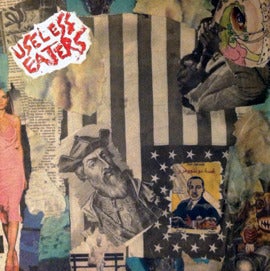 USELESS EATERS
are back with another lp in time for the new year.......
SOUTHPAW RECORDS
is about to release
C'EST BON!.....
this is one of TINY GROOVES' most anticipated releases of the xx12... (their lp DAILY COMMUTE made the best of list for last year).....it was due out a couple of months ago, but production problems got in the way.......
and now the wait is over.....
FRANTIC ANGULAR EARLY PUNK INFLUENCED JAMS TO ROCK AND ROLL YOU ALL NIGHT LONG........ very few bands play such a refreshing take on the KILLED BY DEATH vein of DIY GARAGE PUNK.......
YOU NEED TO BUY THIS WHEN IT HITS THE SHELVES OF YER LOCAL RECORD STORE. HIGHLY FUCKIN' RECOMMENED!!!
listen to two tracks off C'EST BON! below.......
watch the USELESS EATERS live @ THIRD MAN RECORDS.......